Entrepreneurs Wanted
Peace Frogs offers selected individuals the opportunity to own a Peace Frogs store or VW Van kiosk.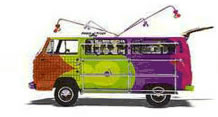 For a first time business owner a VW Van Kiosk in a mall is a good beginning. Peace Frogs uses customized VW vans from the 60's and 70's to display and sell its complete line of apparel and accessories. This award winning concept has the lowest start up capital requirements of all the retail options. For as little as $15,000 a person can open and fully stock their own VW van store. Once a location is secured a van store can be opened in less than a month. This unique use of the van attracts customers in droves and has proven to be successful in amusement parks, malls and festivals.
Peace Frogs stores are also available. Peace Frogs is looking to open new stores in resort communities worldwide. A Peace Frogs stores takes a minimum investment of $30,000 to open. High traffic tourist areas offer the best locations. Peace Frogs offers help with design and merchandising. This is a proven concept with years of success.
None of these opportunities are franchises. Peace Frogs does not charge or take a percentage of sales. Instead, Peace Frogs charges a small annual license fee for the use of the Peace Frogs name and logo for a retail store. Peace Frogs believes in the entrepreneurial spirit. Work for yourself and help us spread the Frog.
To learn more about becoming a part of the fun and rewarding world of Peace Frogs merchandising, fill in this form.
Find out how we got started!